The Federal Trade Commission is reporting a substantial increase in a scam by which people are receiving text messages that appear to come from UPS, Federal Express or the U.S. Postal Service indicating that there is a package that has been waiting to be delivered and needs to be claimed.   Reproduced below is a copy of one of these text messages.  The text message lures you into clicking on a link to provide information to schedule the delivery.  In one version of this scam the link takes you to what appears to be an Amazon website where you are asked to take a customer satisfaction survey.  You are told that if you will be sent a prize for merely taking the survey and they ask for a credit card number from you to pay for the shipping of your "free" prize.  In other versions of this scam, you are asked under other pretenses for your credit card number for verification purposes.  In both of these instances, the scammer is merely interested in getting your credit card number and making unauthorized charges.  In yet another version of the scam, merely clicking on the link provided will download dangerous malware such as ransomware or keystroke logging malware that can lead to your becoming a victim of identity theft.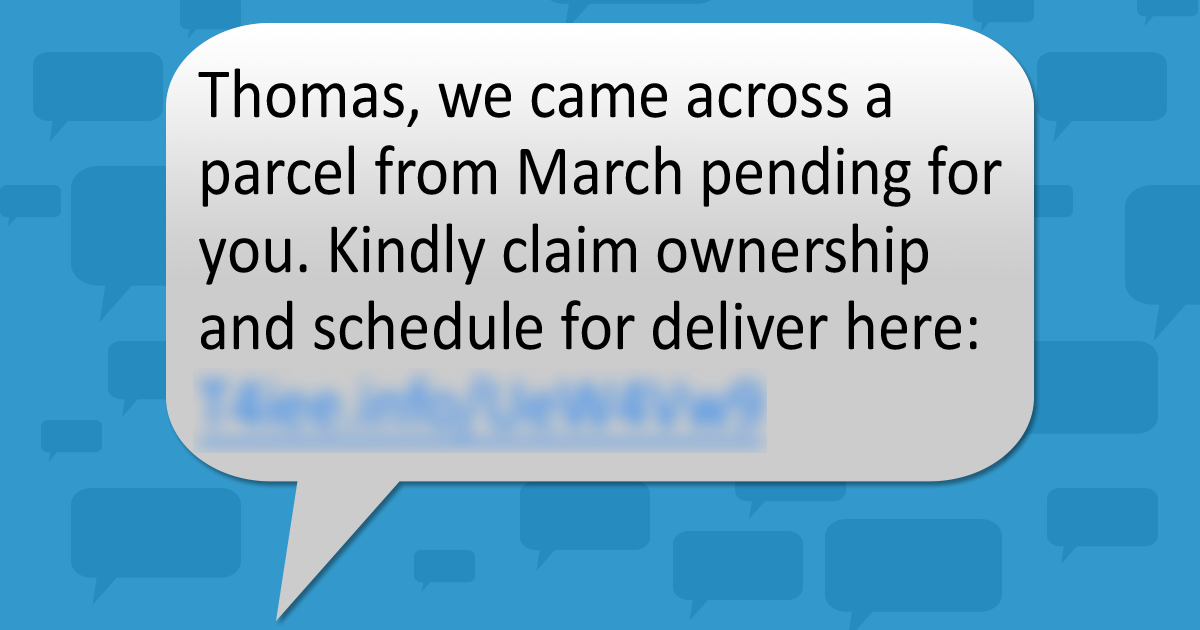 TIPS
There are a lot of red flags to indicate that this is a scam.  Many of the text messages don't provide the name of who they purport to be.  If you got a legitimate message from a delivery service, it would indicate which delivery service was sending you the text message.  In addition, the phone number sending you the text message is generally not a phone number used by the USPS, Federal Express or UPS although more sophisticated criminals would be able to "spoof" the number of these legitimate delivery services to make it appear that the text message was trustworthy.  The bottom line is that you should never click on any link in a text message unless you are absolutely sure and have confirmed that it is indeed legitimate.
If you have any concerns that such a text message might be legitimate, you can do a reverse phone lookup to see who actually owns the phone number used to text you or, more simply, call the USPS, Federal Express or UPS to see if anyone actually did send you such a text message whereupon you will be told that they did not.  Federal Express specifically has indicated that it does not send unsolicited text messages. Neither the USPS nor  UPS will send you a text message unless you have already signed up for their text message service.
If you are not a subscriber to Scamicide.com and would like to receive daily emails with the Scam of the day, all you need to do is to go to the bottom of the initial page of
http://www.scamicide.com
and type in your email address on the tab that states "Sign up for this blog."