Since the pandemic began, I have written many times about cybercriminals making phony applications for unemployment benefits using the names of real Americans whose personal information they have accessed. For one of my earliest Scams of the day that dealt with this scam as perpetrated by a Nigerian cybercrime gang click on this link.  https://scamicide.com/2020/05/17/scam-of-the-day-may-18-2020-secret-service-uncovers-massive-unemployment-compensation-scam-ring/
Now, however, there is a new twist on unemployment scams.  Identity thieves are sending out text messages such as those shown below that purport to be from your state's unemployment department in which you are told that it is necessary for you to either verify your personal information, make corrections to your personal information or reactivate your account.  The link in these emails takes you to a legitimate appearing website that appears to be that of your state's unemployment department where you are prompted to provide your Social Security number and other personal information.  Victims of this scam who provide this information end up becoming victims of identity theft as this information is used for a variety of identity theft purposes including making claims in your name for unemployment compensation.
Here are copies of some of these text messages presently being circulated.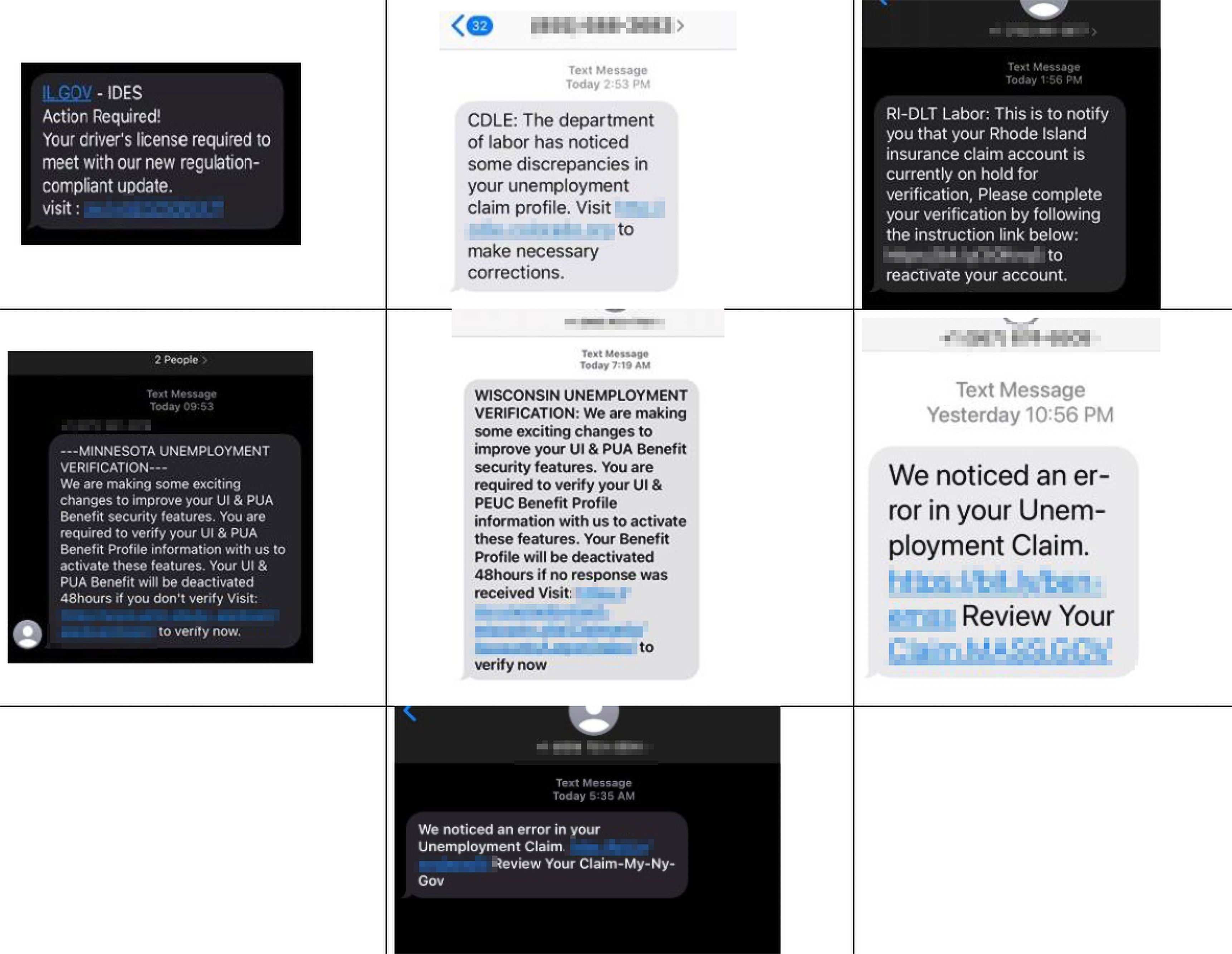 TIPS
The first indication that this is a scam is that state unemployment offices do not communicate through text messages so if you get such a text message or an email, do not click on any links and do not provide requested information.  If you believe that the message might possibly be legitimate, you should contact your state unemployment office by phone at a phone number that you know is accurate.  Here is a link to a list compiled by the U.S. Department of Labor of all of the state unemployment office phone numbers.  The phone numbers are at the bottom of the page.  https://www.dol.gov/agencies/eta/UIIDtheft
Trust me, you can't trust anyone.  Never provide personal information in response to an email, text message or phone call unless you have absolutely verified that the communication was legitimate and the information necessary.
For those of you receiving the Scam of the day through an email, I just want to remind you that if you want to see the ever increasing list of Coronavirus scams go to the first page of the http://www.scamicide.com website and click on the tab at the top of the page that indicates "Coronavirus Scams."  Scamicide was cited by the New York Times as one of three top sources for information about Coronavirus related scams.
If you are not a subscriber to Scamicide.com and would like to receive daily emails with the Scam of the day, all you need to do is to go to the bottom of the initial page of http://www.scamicide.com and type in your email address where it states "Sign up for this blog."