The latest round of stimulus payments of as much as $1,400 to many Americans are a part of the recently passed American Rescue Plan.  However scammers, not wanting to wait until the last minute started sending email scams related to the American Rescue Plan even before it was signed into law.  Reproduced below is a copy of one of these phony emails.  According to the cybersecurity company Proofpoint which released a recent report about this scam, the scammers used email addresses that might appear at first blush to be from the federal government.  Some of the email addresses used are us_irs@federa1.irs.c0m, resecue_plan@federa1.irs.c0m and american_rescure@federa1.irs.c0m.  If you look closely at the email addresses of the sender, however, you will note that rather than the letter "l" in the word "federal," the digit "1" appears.  Also, each email address ends with .com, but the "o" is replaced with the digit "0."   If you look closely you will also see the word "quotes" is misspelled.
If you click on the tab marked "get apply form" you will end up downloading a type of malware called Dridex that will steal your personal banking information and other login credentials.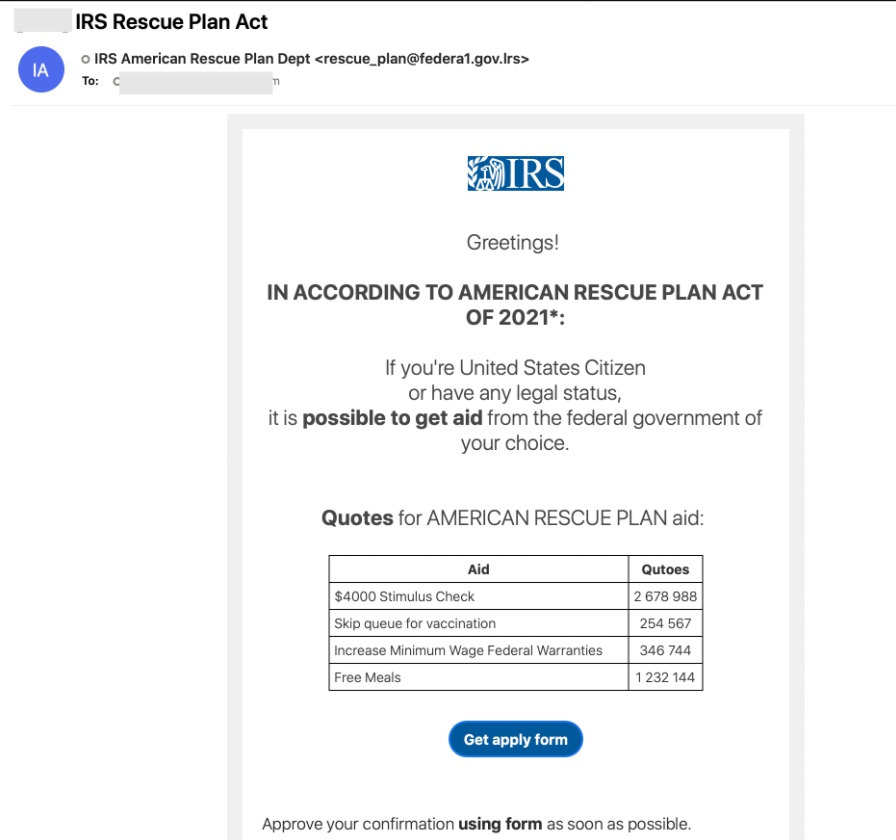 TIPS
The truth is that the federal government is not contacting anyone by email in regard to receiving benefits under the American Rescue Plan, which are already being sent to the bank accounts of eligible people.  Neither is there any program to provide people with the ability to get a higher position in line to receive vaccinations.  You do not apply for benefits under the American Rescue Plan.  Your stimulus check will be sent to you based on your eligibility as determined from your most recently filed federal income tax return and your payment will be made either electronically to the bank account you indicated in your most recent federal income tax return or sent to you as a paper check or debit card.  You do not need to do anything to apply for these benefits.
For detailed information upon which you can rely, you should go to the IRS' website where it explains all you need to know about this program.  https://www.irs.gov/newsroom/more-details-about-the-third-round-of-economic-impact-payments
For information about the status of your specific stimulus payment, you should only go to this IRS interactive website.  https://www.irs.gov/coronavirus/get-my-payment
For those of you receiving the Scam of the day through an email, I just want to remind you that if you want to see the ever increasing list of Coronavirus scams go to the first page of the http://www.scamicide.com website and click on the tab at the top of the page that indicates "Coronavirus Scams."  Scamicide has been cited by the New York Times as one of three top sources for information about Coronavirus related scams.
If you are not a subscriber to Scamicide.com and would like to receive daily emails with the Scam of the day, all you need to do is sign up for free using this link. https://scamicide.com/scam-of-the-day/