The Federal Trade Commission (FTC) recently reported about a phony website that is popping up on people's computers as a YouTube link with several different URL names that appears to be from the US Trading Commission.  The website even uses the FTC's seal at the top of the website.  The website indicates that it operates a "personal data protection fund" to compensate people whose personal information has been exposed on the Internet.  The website promises that it you can instantly receive a cash payment merely by clicking on links in the website and providing personal information including bank account information.  Unfortunately, there is no US Trading Commission and if you do click on the links you will either download dangerous malware or provide personal information that will be used to make you a victim of identity theft.  Reproduced below is a copy of the first page of the phony website.  People have been victimized by this scam both in the United States and around the world.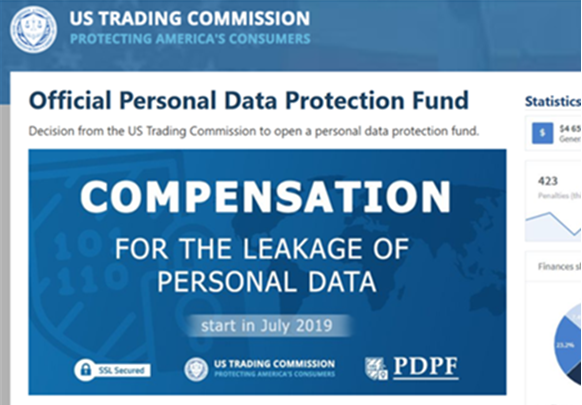 TIPS
Never click on links in emails, text messages or websites unless you have absolutely confirmed that they are legitimate.  Also, remember my motto "trust me, you can't trust anyone."  Don't provide personal information to anyone unless you have absolutely confirmed that the request for such information is legitimate.  It is also important to remember that while the FTC does, in some instances, provide refunds to victims of scams, you never have to pay to participate in such refund programs and you will never be asked for pesonal financial information such as your credit card number or your Social Security number.  For more information about the FTC refund programs, go to the first page of http://www.scamicide.com and click on the tab marked "FTC Scam Refunds."
For those of you receiving the Scam of the day through an email, I just want to remind you that if you want to see the ever increasing list of Coronavirus scams go to the first page of the http://www.scamicide.com website and click on the tab at the top of the page that indicates "Coronavirus Scams."  Scamicide has been cited by the New York Times as one of three top sources for information about Coronavirus related scams.
If you are not a subscriber to Scamicide.com and would like to receive daily emails with the Scam of the day, all you need to do is sign up for free using this link. https://scamicide.com/scam-of-the-day/