Like most federal legislation, the CARES Act which was enacted into law in late March and provided for billions of dollars of stimulus payments to millions of Americans is complicated.  While much of the media focused on payments of as much as $1,200 to people eligible for the program with additional payments of $500 for each qualifying child, the rules regarding eligibility for the payments were in many cases confusing. Scammers are always ready to take advantage of anything in which the public is interested and are ready to exploit any confusion inherent in the subject.  In this case, college students are reporting receiving emails such as the one reproduced below which appear to come from the "Financial Department" of the student's college or university (regardless of whether or not the particular school has a "Financial Department") that appears to provide important information regarding the CARES Act stimulus payments.  This phishing email instructs the student to click on a link that requires the student to enter his or her university login information.  Students doing so will either provide information that can be used to make them victims of identity theft or merely by clicking on the link they may unwittingly download malware such as ransomware or keystroke logging malware that can be extremely harmful.
Here is a copy of the email presently being circulated.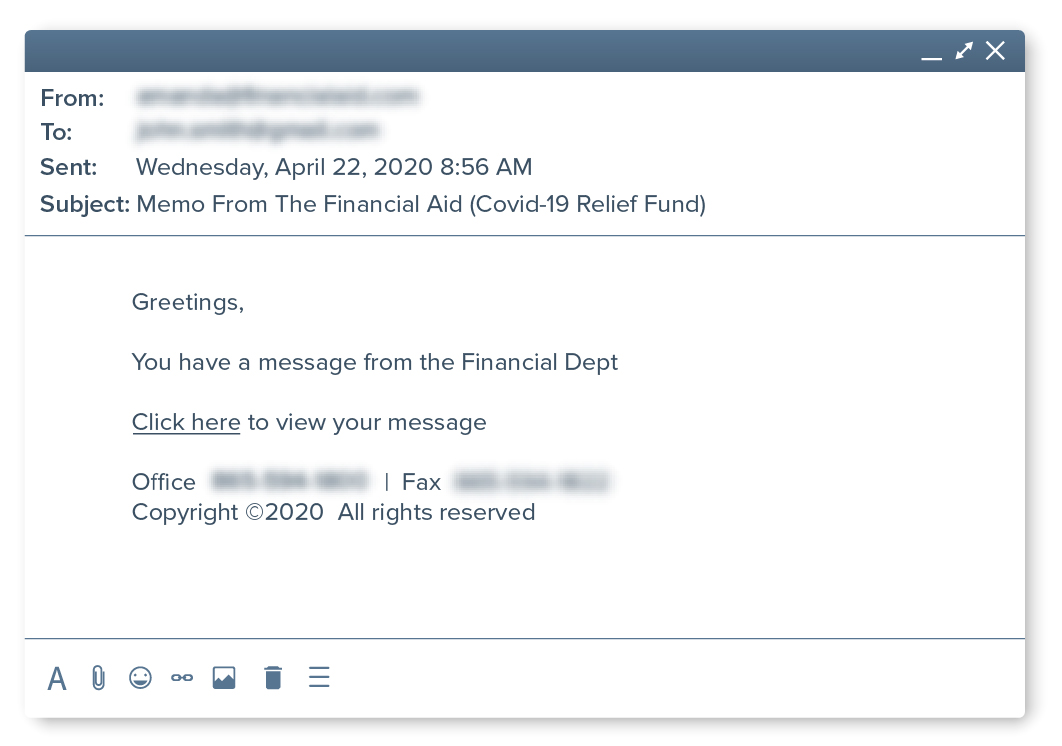 TIPS
Always be wary of any email or text message that asks you to click on a link.  Always confirm that the email or text message is legitimate before clicking on the link.  In this case, if your school does not have an officially designate  "Financial Department" you can be confident that the message is a scam.  Generally schools will designate  a "Financial Aid Department" not a "Financial Department."  Another indication that this particular email is a phishing scam is the fact that at the bottom of the email it indicates that it is copyrighted.  There is no reason that such an email would be copyrighted.
And now for the particularly confusing part.  College students are ineligible for a stimulus check if they can be claimed as a dependent on someone else's federal income tax return.  Under federal law, students under the age of 24 can be claimed as a dependent on their parents' federal income tax return and so they would be ineligible to receive a stimulus check themselves.  Complicating this even further is that the law provides that even if a college student's parents do not claim him or her as a dependent on their income tax return, the student is still not eligible for a stimulus check because the law disqualifies them merely by being eligible to be claimed as a dependent regardless of whether or not they actually are claimed as a dependent.  There are some exceptions, but the vast majority of college students will neither be eligible to receive a stimulus payment nor be claimed as a qualifying child such that their parents would get a $500 payment related to them.
Scammers are quite active in using the CARES Act stimulus payments as a basis for many other scams as well.    It is important to remember that neither the IRS, the Treasury Department or any other federal agency will be contacting you by phone, email or text message about the stimulus checks.  Anyone contacting you by phone, email or text message indicating that he or she is a federal employee is a scammer.
For those of you receiving the Scam of the day through an email, I just want to remind you that if you want to see the ever increasing list of Coronavirus scams go to the first page of the http://www.scamicide.com website and click on the tab at the top of the page that indicates "Coronavirus Scams."
If you are not a subscriber to Scamicide.com and would like to receive daily emails with the Scam of the day, all you need to do is to go to the bottom of the initial page of http://www.scamicide.com and click on the tab that states "Sign up for this blog."