The FBI has issued a warning about phony text messages that appear to come from Costco that purport to offer $130 worth of products for free to its "loyal Costco members" as part of Costco's Covid-19 stimulus package.  The truth is that there is no Covid-19 stimulus package being offered by Costco and Costco is not giving away free products to anyone.  Here is a copy of the text message presently being circulated.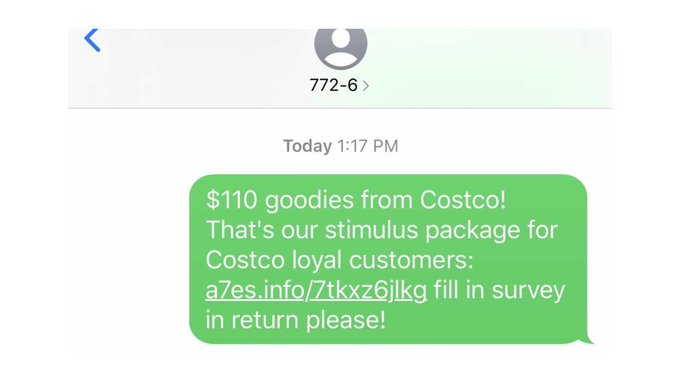 However, it should be noted that scammers are also using Facebook and other social media to spread this scam.  According to the FBI, if you click on the link provided by the scammers, you will end up downloading harmful malware.
TIPS
Remember my motto, "trust me, you can't trust anyone."  Whenever you receive an email, text message or phone call you can never be sure as to who is really contacting you.  Never click on a link or download any attachment unless you have absolutely and independently confirmed that the communication was legitimate.  You should also be skeptical about offers of money or products for nothing.  In the case of scams such as this, you can always go to its website of http://www.costco.com to learn about any promotions or coupons it may be offering.
If you are not a subscriber to Scamicide.com and would like to receive daily emails with the Scam of the day, all you need to do is to go to the bottom of the initial page of http://www.scamicide.com and click on the tab that states "Sign up for this blog."