With more and more people becoming infected with the Coronavirus, people are very concerned and scammers are taking advantage of that concern through a myriad of scams.  Here at Scamicide.com I will be posting warnings about these scams to help protect you from being swindled.  I also urge you to go to the http://www.scamicide.com website where at the top of the first page you will find a link to a list of Coronavirus scams that is being continually updated.
Today's Coronavirus related scam involves scammers disguising themselves as Centers for Disease Control and Prevention (CDC) workers going door to door dressed in white lab coats and wearing masks and gloves offering Coronavirus testing for a fee.  This is a scam.  The CDC is not sending people to private homes to perform or sell Coronavirus test kits.
Here is a Tweet from the Davie, Florida police department warning people about this scam.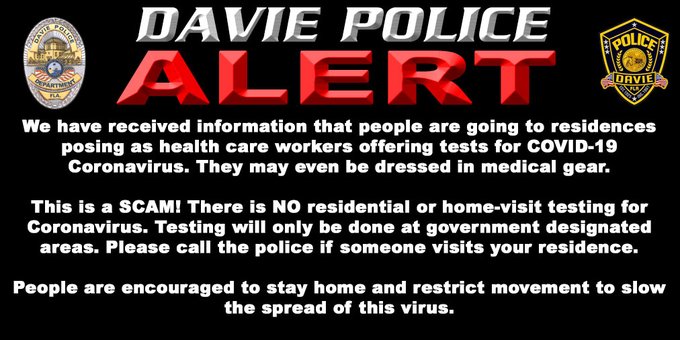 TIPS
The best source of information regarding Coronavirus testing is the CDC.  You can use this link to learn more about testing for the Coronavirus. https://www.cdc.gov/coronavirus/2019-ncov/symptoms-testing/testing.html
It is also important to know that the recent federal stimulus legislation that provided for payments to many people also eliminates all fees for Coronavirus testing.  In addition, the law also requires that doctor's and emergency room visits related to testing for the Coronavirus are free so don't fall for the claim of a scammer that you need to pay for a test.
If you are not a subscriber to Scamicide.com and would like to receive daily emails with the Scam of the day, all you need to do is to go to the bottom of the initial page of http://www.scamicide.com and click on the tab that states "Sign up for this blog."