It appears Delta isn't the only airline having its 88th birthday a little early. It was just ten days ago that I warned you about a new scam involving Delta Airlines appearing on Facebook in which you are told that Delta is giving away free airline tickets to celebrate its 88th birthday.  The Facebook posting asks you to like and share the post as well as complete a survey in order to get your tickets.  However, there are no free tickets and if you complete the survey, you turn over information to a scammer who can use it to make you a victim of identity theft.
Now an identical scam is appearing on Facebook offering free tickets on Southwest Airlines to celebrate its 88th birthday.
Here is a reproduction of what appears on your Facebook page.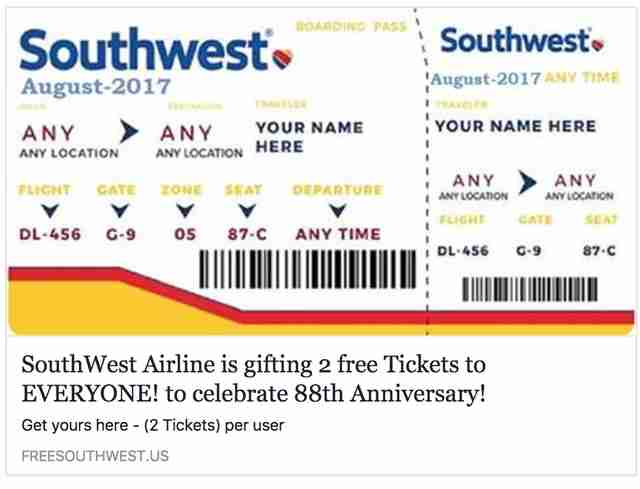 TIPS
A good starting point for recognizing that this is a scam is the fact that just as the birthday for Delta Airlines was incorrect in the posting by five years, Southwest Airlines only began in 1967, so it is a long way off from its 88th birthday.
Southwest Airlines does not offer free tickets in return for answering survey questions and the website referred to in the posting is not a legitimate website for Southwest Airlines.  The real website of the company is http://www.southwest.com
These types of scams entice people to share and like the posting in order to take advantage of Facebook's algorithms that value the popularity of postings measured by likes and shares which then appear on the Facebook pages of more people.  Scammers are able to change the content of what is shared or liked to something entirely different through a technique called "farming."  This is often done in order to send advertising or gather marketing information, but it also can be done to send malware infected content that can steal personal information from your computer and use it to make you a victim of identity theft.
When you see one of these "too good to be true" offers, the best course of action is to check with the company's legitimate website where you will learn whether or not the offer is indeed legitimate.